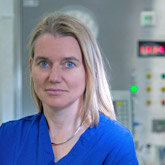 Cecilia Bottomley
Consultant Obstetrician and Gynaecologist

Cecilia Bottomley qualified as a doctor from Cambridge University in 1994 and subsequently trained in Obstetrics and Gynaecology. Since 2009 she has been a consultant at Chelsea and Westminster Hospital where her specialist areas of interest include pelvic pain and menstrual problems, pelvic ultrasound and problems in early pregnancy

Cecilia integrates ultrasound examination into her everyday clinical care to make an early diagnosis, with emphasis on a 'one stop assessment' where possible.

She has an international reputation for her research, having published academic papers on gynaecology, pregnancy loss and ectopic pregnancy. She also published an MD thesis on predicting miscarriage. She lectures nationally and internationally and is an advisor to several medical associations.

Education is a another key area of Cecilia's work with both day-to-day teaching and coordinating postgraduate education in Obstetrics and Gynaecology at Chelsea and Westminster.

People find Cecilia approachable, warm and knowledgable as a gynaecologist.